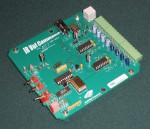 We have three products in this category and are still working on a fourth. The first one was a request by an AV integrator to develop an IR controlled volume device. We only know of one other device available that will control line level volume from any input and have added several important features to ours to make it more useful. They include:
provides for two independently controlled stereo pairs (four channels of audio control). In the ganged mode (only one control input) and using the Vol IV Add-on, you can increase this to twenty total channels of audio control.
does not require a proprietary handheld IR remote control for operation or training the IR control system – – uses the common Sony TV remote or a universal remote programmed as a Sony TV remote
has manual controls on the front of the PCB
has a five element bar LED to display relative volume level
The requestor wanted such a device so they could provide conference room volume control via integrated (multi-device) "IR" control systems such as the ones manufactured by: IntelliControls by Niles, Logitech, Marantz, Philips Pronto, RTI Corp, Universal Remote Control, Xantech and others. We call our product the IR Volume Commando. In its basic form, it controls two independent stereo pairs for four channels of audio. As with our other products, the IR Vol Commando is currently a raw circuit card, but we are working on encasing it in a Lansing metal, rack mountable enclosure (AXB style). Click on the image to the right for a closer view. For more information, click on the draft manual below.
Pricing