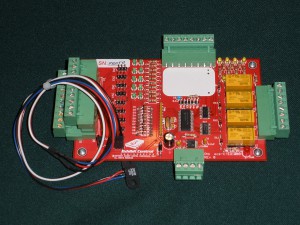 This product is for those basic stand-alone exhibits that need some economic interactivity to bring them alive. In many cases people try to use switch or relay logic for these exhibits, but they usually result in experiences that are very buggy for the visitor. This device was designed to solve that problem. It can be configured to take up to 10 digital inputs: contact closure via switches or motion detectors, TTL signals, or sensor outputs under 5vdc. It can provide either 12 or 5-volt power to those sensors requiring moderate power. It has eight open collector outputs that can each sink 500ma at 30vdc. That output can handle LEDs, 12-volt incandescent lights and relays. There are even some back-lit panels made by Rosco that are under the 500ma limit. And, of course, relays could then control much more severe voltages and currents. Optionally, four of those outputs can be directly converted to relays on the PCB that can handle up to 2 amps at 30vdc. The control electronics start at $250. the price for firmware is dependent on complexity of the game. Call us to discuss.
Click on this link to download a flyer with past example applications of this controller: General Interactive Controller Flyer
---
Pricing
General Purpose Interactive Controller – $400.00 (Qty of 1) Call for multiple pricing.

Programming Development